1,498
Alumni, Parents and Friends
Wake on Wall Street is the WFU Affinity Group dedicated to increasing the awareness & brand value of Wake Forest alumni & students in the world of Business, Finance & related fields through networking, job placement, and education.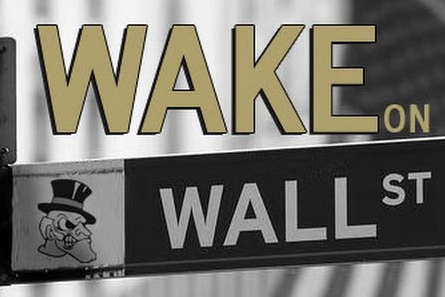 Who's Coming?
---
×
Upcoming Events
No events currently planned. Contact your local Community Officers or alumni@wfu.edu with event ideas!
Past Events
Wake on Wall Street Election Preview
Please join us for an informative panel discussion on "The 2020 Election: What It Means for the Market." Our panel will share their insights... Wednesday, October 28, 2020
Wake on Wall Street Panel
***Registration for this event is currently closed. Please email Gray Allen at allenlg@wfu.edu if you would like to be added to the wait list*** Tuesday, October 22, 2019
Wake on Wall Street Panel "Global Economy at a Crossroads"
THIS EVENT IS SOLD OUT AND REGISTRATION IS CLOSED. Wake Forest Alumni, Parents, and Friends, Please join us on Tuesday, April 25... Tuesday, April 25, 2017
"America at a Crossroads" Wake on Wall Street Panel
A panel discussion on the markets co-hosted by Wake on Wall Street, the Office of Alumni Engagement, Wake Forest University School of Business, and the... Wednesday, April 13, 2016
Wake on Wall Street Market Outlook Panel
WOWS Panel on The Future of Nashville
Wake on Wall Street 2015 Market Outlook Panel Discussion
Community Leadership
President
Executive Committee
Staff Coordinator
If you would like to help plan future events for this community, please contact alumni@wfu.edu.
Community Event Photos