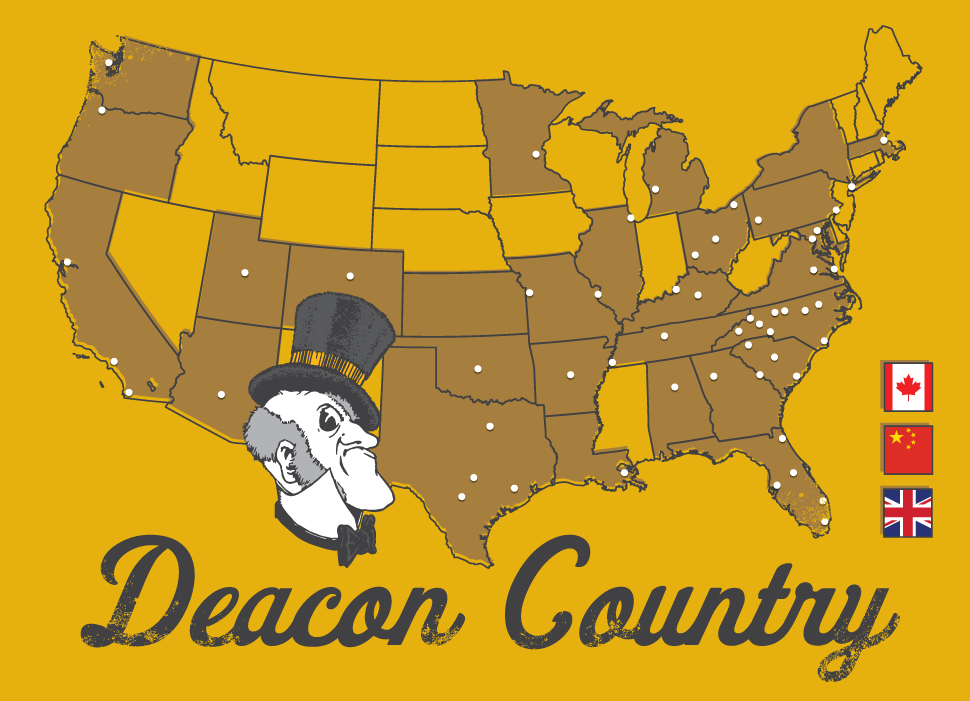 WAKECommunities are made up of alumni, parents and friends interested in connecting with each other and the University. By reflecting the best of the Wake Forest experience – the friendliness of social interaction, the stimulation of intellectual discussion, the excitement of athletic competition, the satisfaction of service to others – WAKECommunities programs remind all who attend of the special qualities that enriched their Wake Forest experience.
Upcoming Virtual Events
Wake Forest Homecoming 2020: Get Your DeacON(line)!
October 19 – 25 | Registration Now Open!
It's been a decade-long year, but we couldn't go any longer without "seeing" you and giving you a chance to connect to Mother So Dear. So we pulled on our suit jacket, tied our bow tie, and donned our thinking top hat to provide opportunities for WFU alumni to get their DeacON(line)! Click here to list a list of all virtual Homecoming events – Go Deacs!
Learn With Life After Wake In the Wednesday Webinar Series! Throughout the fall, we're offering 30-minute webinars to help you cope, grow, learn, and connect. Register for one or all of the webinars below! We'll record each presentation, so even if you can't join live, you'll have a chance to watch the content at another time.
Rare Book Collection with Rare Books Curator Megan Mulder
Tuesday, October 13 | 5:30 p.m. (EDT)
Join Special Collections Librarian and Rare Books Curator Megan Mulder for an introduction to ZSR Library's fascinating Rare Books Collection. We'll learn about the history of the collection, what makes a book "rare," and how we are continuing to grow the collection. We'll also look at some of the materials that have been integrated into Wake Forest college classes over the past year. If you think you know what a rare book is and who is likely to use it, you may be in for some surprises!
Face to Face Speaker Forum
Wake Forest University is excited to announce the genesis of a new community asset, the Face to Face Speaker Forum. This signature speaker series will bring world-class speakers to Winston-Salem on an annual basis. The events in each season will cover a variety of topics, including political affairs, arts & culture, innovation & business, and social justice & global issues.
A Conversation Between Pulitzer Prize winning Columnists, Peggy Noonan of Wall Street Journal & Eugene Robinson of the Washington Post (October 20, 2020 | 7:30 p.m. EDT) – Register Here
Will My Vote Count? Securing the 2020 Election
Wednesday, October 21 | 1:00 p.m. EDT
The security of the U.S. election system is on the minds of many Americans, with early voting beginning and mail-in ballots arriving in mailboxes in many states across the country. Just how secure is this election, and what is being done to protect against foreign interference, hacking and cyber attacks? What challenges to election officials face due to the current pandemic, and how can the American public be assured that the election will be secure and fair?

Celebrate the life of Dr. Maya Angelou with AWFUBA
January 30 | Registration Details Coming Soon
Celebrate the life and legacy of Dr. Maya Angelou and over 50 years of her groundbreaking autobiography, I Know Why The Caged Bird Sings with the Association of Wake Forest University Black Alumni (AWFUBA)! Join us virtually as we discuss the book and the phenomenal woman in November. More details to come! Everyone is welcome and encouraged to participate.
Virtual Call to Conversation
This online version of a Call to Conversation facilitates "virtual" face-to-face engagement through remote video conferencing. Developed in response to COVID-19 social distancing guidelines, a Virtual C2C employs free, user-friendly Zoom technology to bring Wake Foresters together from their computers or mobile devices anywhere in the world. A Wake Forester volunteers to serve as Conversation Leader, and the C2C team manages the guest list and registration. Digital resources are available for the Virtual C2C Conversation Leader as well as participants.
---
Did you miss an event, or want to reference something that was said? Check out the links below to search and find event recordings and other Wake Forest video content!
Wake Forest Athletics Recorded Events
Wake Forest Business School Virtual Event Archive
Alumni Personal and Career Development – Life After Wake Recorded Webinars