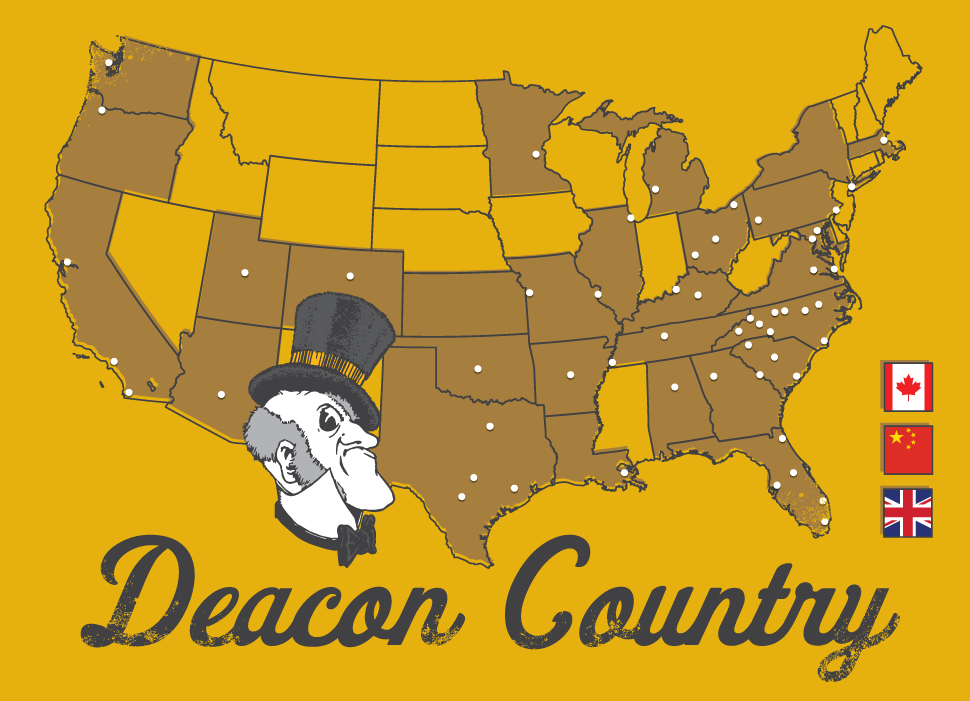 WAKECommunities are made up of alumni, parents and friends interested in connecting with each other and the University. By reflecting the best of the Wake Forest experience – the friendliness of social interaction, the stimulation of intellectual discussion, the excitement of athletic competition, the satisfaction of service to others – WAKECommunities programs remind all who attend of the special qualities that enriched their Wake Forest experience.
Upcoming Virtual Events
Wake Forest Presidential Search: Get Involved
On October 13, President Hatch announced his intention to step down at the end of the academic year. The Presidential Search Committee welcomes insight and feedback from the Wake Forest community and invites alumni to participate in a survey or join a listening session.
Learn With Life After Wake In the Wednesday Webinar Series! Throughout the fall, we're offering 30-minute webinars to help you cope, grow, learn, and connect. Register for one or all of the webinars below! We'll record each presentation, so even if you can't join live, you'll have a chance to watch the content at another time.
Gratitude in a Season of Uncertainty
Thursday, December 3 | 12:00 p.m. EDT
Join alumna and Wake Washington Executive Director Jennifer Richwine ('93) for a fun and interactive discussion on why a habit of gratitude matters, how to be grateful in hard times, how to go into this very different holiday season with gratitude in mind, and then some very practical tips for writing powerful thank you notes and making note writing a habit. Jennifer is the author of "With Gratitude: The Power of a Thank You Note".
Crafting a Career Change: A Conversation with WFU Alumni (Virtual Panel Discussion)
Tuesday, December 8, 2020 | 12:00 p.m. – 1:00 p.m. EDT
Join us for an engaged and informative conversation with Wake Forest alumni, Kristin Winkle Beck ('97), CEO of Pivot Point Professionals, Devin Williams ('16), New Business at Team Epiphany, and Josh McCutchen (MBA'09), VP, Marketing & Sales at Dewey's, as we talk about different strategies to plan for, and make a change. The panelists will share how they used networking, graduate school, and an intentional sabbatical to identify "what's next." Learn how their action steps made a difference and how they can work for you, too! Hosted by the Alumni Personal & Career Development Center and School of Business Alumni Engagement.
Celebrate the life of Dr. Maya Angelou with AWFUBA
Saturday, January 30 | 4:00 p.m. – 6:00 p.m. EDT
Celebrate the life and legacy of Dr. Maya Angelou and over 50 years of her groundbreaking autobiography, I Know Why The Caged Bird Sings with the Association of Wake Forest University Black Alumni (AWFUBA)! Join us virtually as we discuss the book and the phenomenal woman in January. Everyone is welcome and encouraged to participate.
Virtual Call to Conversation
This online version of a Call to Conversation facilitates "virtual" face-to-face engagement through remote video conferencing. Developed in response to COVID-19 social distancing guidelines, a Virtual C2C employs free, user-friendly Zoom technology to bring Wake Foresters together from their computers or mobile devices anywhere in the world. A Wake Forester volunteers to serve as Conversation Leader, and the C2C team manages the guest list and registration. Digital resources are available for the Virtual C2C Conversation Leader as well as participants.
---
Did you miss an event, or want to reference something that was said? Check out the links below to search and find event recordings and other Wake Forest video content!
Wake Forest Athletics Recorded Events
Wake Forest Business School Virtual Event Archive
Alumni Personal and Career Development – Life After Wake Recorded Webinars
Upcoming Events
Gratitude in a Season of Uncertainty
Celebration of Dr. Angelou and over 50 years of I Know Why the Caged Bird Sings
More Events »