1,607
Alumni, Parents and Friends
Decorated Deacs is a WFU Affinity Group volunteer led that aims to connect, honor and support military-affiliated Wake Forest students, alumni and friends including veterans, active-duty personnel, National Guard members, reservists and their families.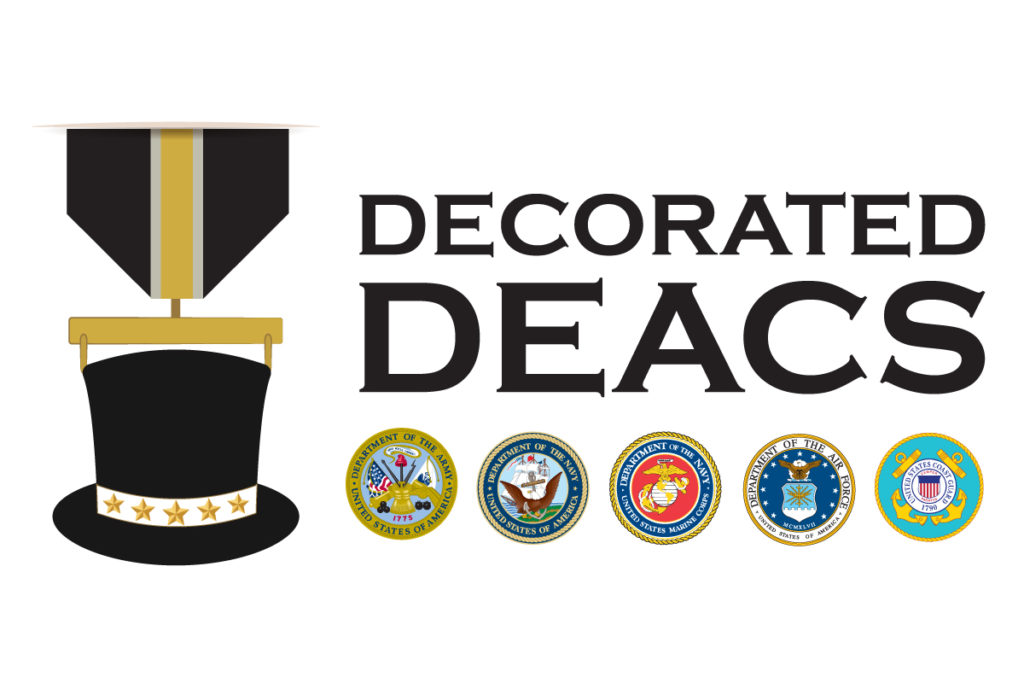 Who's Coming?
---
×
Upcoming Events
No events currently planned. Contact your local Community Officers or alumni@wfu.edu with event ideas!
Past Events
ROTC and Military Science Update
Join leaders from the Military Science department for an update on the state of Wake Forest's ROTC program, how they are adapting to the... Wednesday, October 21, 2020
Decorated Deacs
NET CALL...NET CALL...NET CALL... All Decorated Deacs! Join your fellow veteran alumni and friends on a "Net Call" via video teleconference on Tuesday,... Tuesday, June 09, 2020
First Decorated Deacs Quarterly Lunch
Please come and join other Wake Forest veterans and Decorated Deacs for camaraderie and networking in a relaxed environment. All are welcome as we look... Wednesday, March 11, 2020
DC -Screening of Five Minutes with Dr. Anthony Atala and Secretary Wilkie
The Wake Forest University Graduate School of Arts and Sciences, The Wake Forest Institute for Regenerative Medicine, The Documentary Film Program and the Wake... Wednesday, February 26, 2020
Decorated Deacs Veteran's Day Happy Hour
***Advanced registration closes at noon on November 11. However, you are still welcome to attend if you did not pre-register.*** Please come and celebrate... Monday, November 11, 2019
2019 Veterans Day Ceremony
Veterans Day Ceremony hosted by Dr. Nathan O. Hatch and special guest speaker, Vice Admiral C. Forrest Faison, III. We will be celebrating our first undergraduate class of Yellow Ribbon Program beneficiaries. A light reception will follow. Monday, November 11, 2019
Decorated Deacs Hit the Bricks Virtual 5K
Decorated Deacs - On October 4th, thousands of Demon Deacons will participate in "Hit the Bricks," an annual tradition during which teams of faculty,... Saturday, September 29, 2018 - Thursday, October 04, 2018
Decorated Deacs Launch Reception
You're invited to celebrate the launch of the new Decorated Deacs affinity group at the North Carolina Museum of History on Tuesday, May 1. Alumni,... Tuesday, May 01, 2018
Decorated Deacs Launch Party
Celebrate the launch of the new Decorated Deacs affinity group at the Wake Washington Center! Alumni, parents, current students, and friends are all welcome. Tuesday, January 09, 2018
Operation Gratitude Letter Writing
The newly formed Decorated Deacs invite you to celebrate Veterans Day by writing letters of gratitude to our deployed service men and women for their... Tuesday, November 14, 2017
Community Leadership
Executive Committee
Forrest Faison ('80, SCD '18, P '23)
Jay Waters ('87) Community Advocate
Staff Coordinator
Co President
Josh Traeger ('05) Co-President
Joe Wescott ('81, MA '00) Co-President
If you would like to help plan future events for this community, please contact alumni@wfu.edu.
Community Event Photos