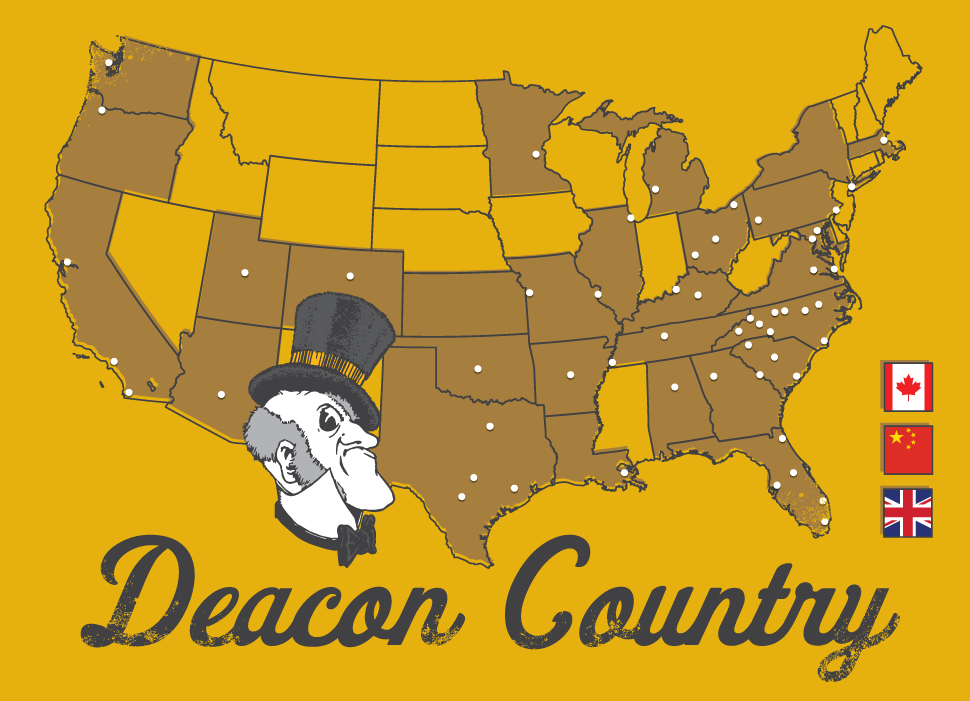 WAKECommunities are made up of alumni, parents and friends interested in connecting with each other and the University. By reflecting the best of the Wake Forest experience – the friendliness of social interaction, the stimulation of intellectual discussion, the excitement of athletic competition, the satisfaction of service to others – WAKECommunities programs remind all who attend of the special qualities that enriched their Wake Forest experience.
Upcoming Virtual Events
Join Students, Faculty, and Staff in Hit The Bricks 2020!
September 28 – October 1, 2020
Wake Forest University's Fall fundraiser for the Brian Piccolo Cancer Fund, Hit the Bricks, is going virtual and alumni everywhere have the opportunity to participate. Form (or join) a team and track your running and walking from September 28 – October 1 by using the Strava app. Teams can have up to 15 participants and can be formed however you like. Register or join a team today!
The Balancing Act: The Role of Whistleblowers in American Commerce and Government
Tuesday, September 22 | 1:00 – 2:00 p.m. (EDT)
Are whistleblowers heroes or villains? How do whistleblowers protect themselves while serving the public interest in exposing unscrupulous corporate and government executives? How should companies protect themselves from financially incentivized whistleblowers? The Center for the Study of Capitalism brings together three esteemed guests to discuss trends, regulation, whistleblower protection, monetization, and more: Sherron Watkins, former Vice President of Enron and better known as the Enron whistleblower; John Kostyack, Executive Director of The National Whistleblower Center; William McGovern, a partner at Kobre & Kim with particular experience in matters involving whistleblowers.
The Complexity of the "x" in Latin X
Monday, September 28 | Noon – 1:30 p.m. (EDT)
The categories of race, gender, and sexuality continue to be the site of analysis for many higher education researchers. This presentation will engage in a dialogue about the importance of Latinx/a/o/* students' identities and labels that have been (mis)used, (mis)interpreted, and have not been fully examined. The goal is to illuminate how the politics of naming social identities can perpetuate structures of power and work toward transforming higher education through critical naming processes. Presented by Cristobal Salinas Jr., Ph.D., an associate professor in the Educational Leadership and Research Methodology Department at Florida Atlantic University and the Founder and Editor-in-Chief for the Journal Committed to Social Change on Race and Ethnicity.
Tools to Engage RIDE to Reduce Biases, Prejudices, and Discrimination in Teams and Organizations
Wednesday, September 30 | Noon – 1:00 p.m. (EDT)
In this third in a series of webinars focused on reducing biases, prejudices, and discrimination in teams and organizations, participants are introduced to three leadership tools to engage the RIDE framework: a group perception exercise, a framework to engage in challenging conversations to be an active advocate, and a process to establish the context that enables inclusion to flourish. Facilitated by Dr. Pat Sweeney, Executive Director of the Allegacy Center for Leadership and Character, and Dr. José Villalba, VP of Diversity and Inclusion and Chief Diversity Officer for Wake Forest University.
Representation Matters: Art, Space, and Racial Restitution
Wednesday, September 30 | 6:00 p.m. (EDT)
This timely and important virtual panel discussion will demonstrate the critical convergence of art and social justice issues at hand. The panel discussion is related to the student-curated exhibition of an extraordinary Collection in Hanes Gallery, titled, Explorations of Self: Black Portraiture from the Cochran Collection. The panel will include Omari Simmons, Jame Anderson, Jay Curley, with Corey D. B. Walker as moderator. A partnership of Wake the Arts and Slavery, Race & Memory Project.
Learn With Life After Wake In the Wednesday Webinar Series! Throughout the fall, we're offering 30-minute webinars to help you cope, grow, learn, and connect. Register for one or all of the webinars below! We'll record each presentation, so even if you can't join live, you'll have a chance to watch the content at another time.
Face to Face Speaker Forum
Wake Forest University is excited to announce the genesis of a new community asset, the Face to Face Speaker Forum. This signature speaker series will bring world-class speakers to Winston-Salem on an annual basis. The events in each season will cover a variety of topics, including political affairs, arts & culture, innovation & business, and social justice & global issues.
A Conversation Between Pulitzer Prize winning Columnists, Peggy Noonan of Wall Street Journal & Eugene Robinson of the Washington Post (October 20, 2020 | 7:30 p.m. EDT) – Register Here
Celebrate the life of Dr. Maya Angelou with AWFUBA
TBA – November
Celebrate the life and legacy of Dr. Maya Angelou and over 50 years of her groundbreaking autobiography, I Know Why The Caged Bird Sings with the Association of Wake Forest University Black Alumni (AWFUBA)! Join us virtually as we discuss the book and the phenomenal woman in November. More details to come! Everyone is welcome and encouraged to participate.
Virtual Call to Conversation
This online version of a Call to Conversation facilitates "virtual" face-to-face engagement through remote video conferencing. Developed in response to COVID-19 social distancing guidelines, a Virtual C2C employs free, user-friendly Zoom technology to bring Wake Foresters together from their computers or mobile devices anywhere in the world. A Wake Forester volunteers to serve as Conversation Leader, and the C2C team manages the guest list and registration. Digital resources are available for the Virtual C2C Conversation Leader as well as participants.
Upcoming Events
Wake NOW (Network of Women) DC Fall 2020 Book Club - 9.24.20
More Events »